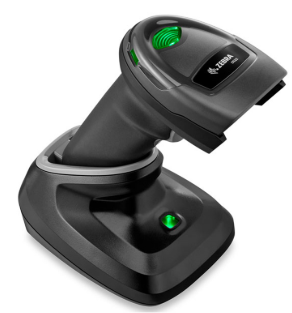 DS2278-SR Handheld Reader For Zebra DS2278 Wireless Barcode Scanner with USB Kit + Cradle Black
Description
The Zebra DS2278-SR cordless handheld standard range area imager kit includes a cordless scanner, cradle and USB cable.
The DS2208 Standard Range Area Imager reads the barcodes important to your business. Scan virtually any barcode, including codes displayed on mobile devices. 2D barcodes have made their way to your point of sale, from the items your customers are purchasing to printed and electronic coupons and loyalty cards. Your 1D scanner can't capture the new 2D codes, leading to exceptions that slow down the check-out process, frustrating customers at that key last personal touchpoint in your store; but you can scan it all. You get an affordable 1D/2D imager that doesn't compromise performance or features for price.
Choose the model that best fits your point of sale needs, the corded DS2208 or the cordless DS2278. Both models offer all day comfort your workers can count on. The well-proven ergonomic and lightweight balanced design provides maximum comfort, even in the most scan intensive environments, resulting in reduced user fatigue and increased worker productivity. Built to last, our patented single board construction, patented frictionless liquid polymer scan element, scratch resistant tempered glass exit window and a stringent drop and tumble specification, the DS2200 series delivers reliable all-day, every day operation.
Knowing the bar code was scanned is important, choose from a variety of feedback settings to indicate the successful capture of a bar code: The Direct Decode Indicator (a blinking laser line), beep tone, red/green LED indicator, or any combination of the three. Enjoy true plug-and-play simplicity with our universal cable which easily connects to any computing environment, practically eliminating setup and training time. The DS2200 Series offers the affordability your budget demands, with the deployment, ease of use and management simplicity your business requires. A perfect solution for retail and hospitality businesses.
AFFORDABLE 1D/2D SCANNER: An affordable 1D/2D imager that doesn't compromise performance or features for price. Capture barcodes from mobile devices, 1D and 2D Paper barcodes on items for sale, coupons, loyalty cards and more.

GENERAL PURPOSE USE: The DS4308 scanner is hand held with an ergonomic, lightweight design. Built to be used reliability all day long while reducing employee fatigue allowing this scanner to be used in a wide variety of business situations.

BUILT FOR YOUR BUSINESS: This cordless imager is built primarily for retail and hospitality businesses everywhere, but the applications are endless. Placing this reliable tool at your point of sale will ensure quick transactions and keep the lines moving.

EASY TO USE: Point and shoot scanning with omni-directional scanning means users never need to line up the imager and the barcode. The aim line guides users to scan at the ideal distance from the barcode. This is helpful when capturing wide barcodes.

EASY TO DEPLOY: Pre-configured and ready to use right out of the box. Auto-host cables will identify your Point of Sale (POS) interface and connect the imager, simplifying and reducing set up time.
​